For some thirty years, John Matheson worked happily and successfully in the Victorian jewellery trade. And when he wasn't dealing in gold and diamonds, he entertained people as a professional magician. He shares his experience of a late diagnosis. 
But ten years ago, when only in his early fifties, John was forced to retire. Ongoing ill-health beset the lively, active English-born, Melbourne man. At first, it was thought he was suffering from bronchiectasis, the chronic lung disease that is often confused with cystic fibrosis.
'I was coughing and spluttering every day. The stress and the long hours took their toll. I enjoyed my work, so it took me a while to adjust.'
In 2018 he was finally sent to the Alfred Hospital where, at the age of sixty-three, he was diagnosed with atypical CF.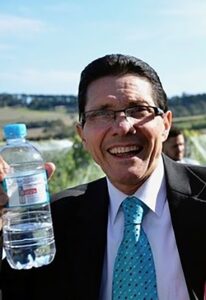 To manage his health, John does daily physiotherapy, takes his medications and maintains a positive state of mind. From his Bayside home, he takes long, brisk walks and does other exercise. He describes life since the diagnosis as challenging.
'I am fortunate in many ways,' says John. 'My wonderful wife Jane, who is a nurse at the Peter MacCallum Cancer Clinic, cares for me. We have been married for twenty-five years and her support has been fantastic.'
John was born in the English port city of Southampton. When he was ten, John's parents brought him and his sister and brother to Sydney. Four years later, the family moved to Melbourne. He recalls having chest infections all his life, including pneumonia at twenty-one. During his childhood, the major test for CF was the sweat test – genetic testing was some years away – and John's sweat did not reveal the CF.
Apart from looking after his health, doing household tasks and catching up with friends, John does still practice some magic. He learned his magic skills when working at the former Bernard's Magic Shop in the city and still enjoys occasionally using these skills to entertain.
This article was originally published in the CFCC Community Focus Magazine in November 2019.
If you would like to share your story, please contact us at admin@cfcc.org.au. We'd love to hear from you and so would our readers