Nick Hoschke has CF and lives in NSW. He is an avid writer and passionate about sharing the story of others.  Nick interviewed Tony on his experience switching from Orkambi to Symdeko. 
Tony Hanna is remarkable and his experience is remarkable. Prior to starting Orkambi, he went from being a person whose lung function nearly qualified him for a lung transplant to someone who was able to build a level of fitness allowing him to undertake twenty-kilometre bike rides.
Pre-Orkambi, Tony had dedicated much of his time to physio — up to six hours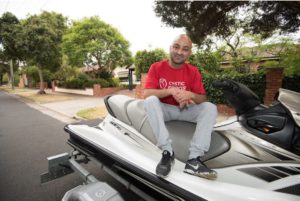 in a day, with rest and recovery in between. Post-Orkambi he was in a position to apply the same level of dedication and focus but in a much shorter timeframe, one or two hours a day. Recalling that period in 2017, Tony says: "I got more than double my lung function literally overnight." "When I started the Orkambi I did… maybe ten overseas trips in two years," he says. "I may have done more. I'll have to check my passport."  Tony mentions Lebanon, Bali, China, Dubai. "I'd be planning my next trip on the way back home." His love of experiencing different cultures and trying different foods were the prime motivations.
A few years after taking the leap into this new medicine and new life, Tony's doctors at the Alfred Hospital in Melbourne would decide that a different modulator, Symdeko should be considered. The instigating factor for this was due to the one thing which had persisted for Tony after starting Orkambi: shortness of breath.
This was a notable symptom as Tony, 37, did not suffer from asthma. Tony recalls his team saying, "At least give it a shot, they said. Who knows, it could solve the asthma problem. Worst case scenario, you just get back on Orkambi."
When Tony started Orkambi he had to undergo a barrage of tests to satisfy any stringent qualifying standards. However, starting Symdeko was a lot easier. Tests over six months were not an imposition, they were only done as a matter of course, no need to satisfy standards required for compassionate access drugs. He could start it from home. It needn't be life-changing, he was already doing okay.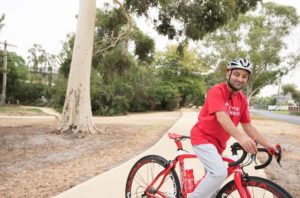 No one predicted the results. "It was just a dramatic switch… It happened so quickly," Tony remembers. "It's almost like I woke up and I didn't have CF anymore." That sounds like an extraordinary result. He recalls feeling more energy as well as gaining three kilograms over six weeks.
But what about the shortness of breath?
Whether this had been a side effect of Orkambi or merely residual asthma following years of illness is unclear. "It's kind of hard to say," says Tony. "It could be two things. It could be that Symdeko doesn't have shortness of breath as a side effect, or it could be that Symdeko helped me overcome the shortness of breath." Either way, it is no longer an issue.
On Orkambi, Tony had built up his walking distance over weeks and months, progressing to twenty thousand steps a day. He started running. He really wanted to go on bike rides. He'd started doing a few kilometres, eventually reaching his goal of about 20km a day, which appeared to be his limit.
Now, on Symdeko, he broke through that ceiling, and in short order. "I was able to ride twenty k's and now I'm able to ride fifty k's." He says this happened in less than two weeks: "Maybe a week and a half."
Hearing about Tony's adherence to exercise is in equal parts inspiring and exhausting. His attitude when talking about the subject reflects perhaps the way a personal trainer might talk, but with a CF-specific focus. "Cystic fibrosis is a full-time job", adding, "This stuff doesn't stop!"
Tony's priority is unambiguous. "My job is to look after myself, but I love my job, y'know?"
Tony's gone from strength to strength. His story is a remarkable one and a testament to the efficacy of a new generation of medications, in particular the CFTR Modulator therapies.
One thing he's looking forward to when it's safe to do so is flying again, visiting some faraway place, and immersing himself in another culture. To make the most of his new found vitality.
This article was published in May 2021. If you would like to share your story, please contact us at admin@cfcc.org.au. We'd love to hear from you and so would our readers.