IVF, pregnancy and parenting: Emily's story
Emily Naismith is a writer who lives in Melbourne with her husband and toddler. She shares her CF story about experiencing IVF, pregnancy and the early days of motherhood.
I was floating in the ocean off the coast of northern Spain when I decided that I wanted to have a baby. Up until then, I'd just been living in the moment and not really thinking about the future. Having a baby's not that hard, right? Birds, bees etc. Easy done! Well, I'm happy to report that I do now have a baby (technically he's now a toddler) but it certainly wasn't easy, or simple. Here's how it happened.
Getting pregnant
After going through the genetic testing process to check my husband wasn't a CF carrier, we were having absolutely no luck falling pregnant (despite me buying metric tonnes of ovulation test kits of eBay).  We consulted a fertility specialist that operated out of my local GP clinic who had some good insights, but unfortunately it still wasn't happening for us. After six months or so of trying, a CF nurse at the hospital suggested we start looking into the IVF process as she knew it took quite a while to get set up in the system.
Do we need IVF?
We chatted to a doctor at the IVF place who organised a heap of tests to work out if there's a specific reason we may be struggling to fall pregnant. There wasn't. Well, I mean someone said my uterus looked "inflamed" but no one really knew if that meant anything. I found this process very frustrating, especially because ultimately there was no clear reason why it wasn't happening for us.
Starting IVF
After about six further months of tests, appointments, checks and counselling we were ready to start the actual physical process of IVF. I found injecting myself over breakfast each morning funny but also extremely surreal. We only told one or two people about going through this process. This meant I had to hide my "trigger injection" (that tells all the eggs you're growing to be released) between the milk cartons and my colleagues left-overs in the work fridge. This made me slightly sick with nerves.
The egg collection
"You took a while to start breathing again normally" is not exactly what you want to hear after waking up from an anaesthetic. They said if there needed to be a next time, they'd probably set me up with oxygen before they get started. But the good news is they "harvested" (yes, I am a field of wheat) 16 eggs. My doctor said she wanted to do everything she could to avoid me getting OHSS (ovarian hyperstimulation syndrome) so she gave me a trigger injection that can, unfortunately, reduce the number of viable eggs collected. This meant that of the 16 collected, only two turned into viable embryos. These embryos were then frozen.
Embryo transfer
Two months and two massive career changes (haha, do not recommend this while going through IVF) later, I was ready for the embryo transfer. This is when the doctor defrosts the embryo and sucks it up into a pipette to insert into you. The whole process was very quick and it's absolutely wild to think I walked into that room not pregnant and walked out pregnant.
The call
Over the few weeks since the transfer, I'd noticed a few signs that I could be pregnant. But over the past year and a half, I'd thought I'd noticed so many signs that turned out to be my imagination, so I didn't let myself get excited one bit. After a blood test at the IVF clinic, we received an amazing phone call that confirmed I was actually – holy shit – pregnant! Then two hours later we received a call that our dog had terminal bone cancer. But at least we had those two hours!
Early pregnancy
After the six-week scan at the IVF clinic confirmed our little baby had a heartbeat and was looking as good as a microscopic baby can look, we felt like we could relax and enjoy the pregnancy. I knew that there was a lot to worry about while being pregnant, but it was such a journey to get here, I wanted to enjoy every moment. I did get a bit of morning sickness (especially on the walk, ride, tram and other tram to work) but it was nothing that eating a few multi-grain biscuits couldn't fix.
Booking in doctors
We were in the fortunate position of being able to have private health insurance that covered obstetrics, so we could choose our obstetrician and hospital. In the end, I didn't really have to choose a hospital because my CF team at The Alfred said that Monash was the only real option because there was the trifecta of a CF team, tertiary hospital and neonatal care. My obstetrician had a lot of experience with women with CF who have given birth, which filled me with confidence.
Health throughout pregnancy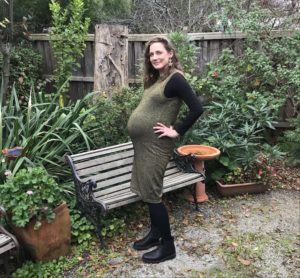 Absolutely astonishingly, my breathing tests were the best they've been in years while I was pregnant. I'm yet to work out why that was because you'd think they'd be worse with a baby pushing up into your lungs. It was probably due to me actually looking after myself properly now that I had someone else to look after too. This meant physio twice a day (and re-learning good physio technique), regular exercise, so many pelvic floor exercises and eating a shitload (like, seriously, so much). I honestly ate a laksa every day for lunch for months and was never more than one metre away from a snack because I was so scared that I would lose weight and get sick.
Diabetes
An oral glucose test years ago said I technically had CF-related diabetes, even though my blood sugars were always pretty fine. This meant I had to see a diabetes specialist at Monash regularly while pregnant and check my blood sugar before and after every meal. This was excessively draining but my blood sugars didn't really go up throughout the whole pregnancy, in fact at one stage the blood sugar monitor in my arm said I was pretty much constantly in a zombie state.
The birth
I was induced at 40 weeks and three days, as suggested by my obstetrician. I found early labour quite relaxing as I felt very supported by the midwives and by my husband. We listened to footy podcasts and bird podcasts for a few hours. Then shit started to get real. I vomited up all my expensive snacks and started getting uncomfortable. I'll spare you all the details but I was pushing for quite a bit longer than expected. Turns out he was absolutely massive – 4.23 kilos with a gigantic 39cm head. Twelve hours after the induction drugs went in, I was holding my little puggle in my arms.
The first few days
The recovery from the birth was harder than expected. I couldn't walk for a few days while my body pulled itself back into shape and my stitches healed. I also found breastfeeding to be quite a challenge. My baby had low blood sugar so that also added to the stress. But things smoothed out over the five nights in hospital. By the sixth day, I felt ready to go home, then burst into tears once I got home.
Breastfeeding
No one really tells you how absolutely ravenous you will be while breastfeeding. I was eating a minimum of three muesli bars throughout the night (one after each feed). It is quite hard to keep yourself fuelled with food and drinks while looking after a newborn that you're fuelling in turn, especially with the added calories needed in a CF diet.
Early motherhood
The first six weeks was tough physically and emotionally. At a minimum, I was feeding him every three hours, which makes it hard to function due to lack of sleep. It was absolutely mind-blowing to be a mum though. Every single thing he did made my heart explode. Each week kept getting easier too. Sure, there were new challenges all the time, but my confidence as a mum was growing.
Health in the months after birth
I found it hard to find time to do my physio twice a day, so this dropped back to once a day (which is where it's stayed for almost two years now). I did another oral glucose test a few months after giving birth and I no longer have diabetes (but I'm in the pre-diabetes range). I haven't been able to blow a breathing test as solid as when I was pregnant, but my lung function is at my pre-pregnancy baseline of around 69% still. My husband took about two months off work to help care for both of us during this time which was incredible. I can't imagine what it would have been like without that support.
Stopping breastfeeding
I was lucky enough to be able to breastfeed my son up until he was 15 months old. This meant I didn't have Tobramycin (one of my regular antibiotics) for over two years. What a sweet holiday! It also meant I couldn't start gene modulators until I finished breastfeeding. Ultimately, wanting to start these was the reason I stopped breastfeeding. My son was eating really well by this stage and didn't miss it.
New mindset
The road to becoming a mum and then finally becoming a mum has definitely flicked a switch in my brain to actively look after myself more. I want to give my son the best possible life and be by his side to experience it all. I'm confident that I'll be able to face any challenges that pop up with an amazing family around me to support me. I definitely don't do everything by the book (eternally working on doing more exercise) but I don't think perfection is achievable. And anyway, I want to enjoy the everyday moments of chasing ducks and searching for diggers with my kid too and I won't apologise if I find that more satisfying than going for a run.
If you would like to share your story, please contact us at admin@cfcc.org.au. We'd love to hear from you and so would our readers.
This story was published in May, 2021.