Mental Health
CF is complex and often impacts emotional and mental health.  Below we have listed checklists and resources that may assist help you identify when you are moving from positive mental states such as Thriving and Coping to the more undesirable states of Struggling and Crisis.
Everyone's mental health is impacted in life at some point, whether you have CF or not. It is normal to experience fluctuations but when negative states become ongoing or chronic, then intervention is required.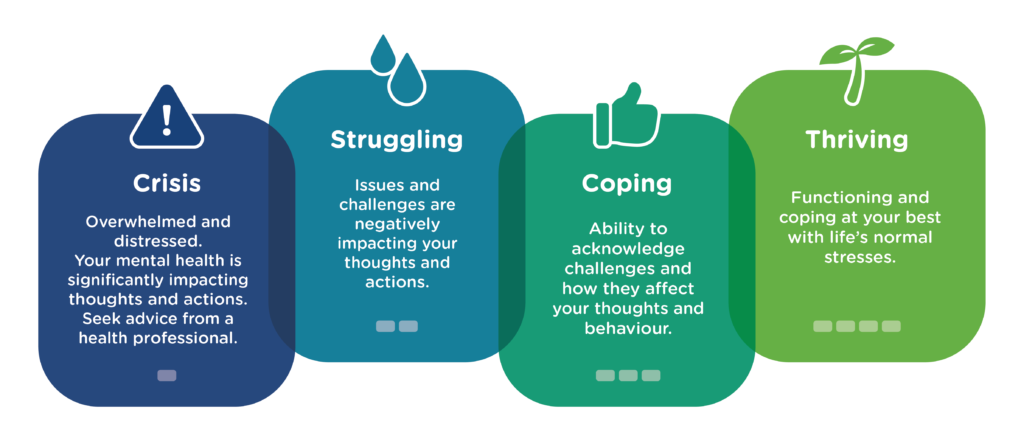 Resources for Anxiety and Depression
Treating anxiety
A wide range of treatments have shown significant improvements in treating anxiety disorders. Seeking treatment from a psychologist using Behaviour Therapy (exposure therapy), Cognitive Behaviour Therapy (retraining thoughts), self-help books, computerised therapy (self-help online treatments), medications and relaxation training.
If you think you may have anxiety, try one of the checklists below.
Mindspot anxiety checklist
Anxiety checklist
Treating depression
A wide range of treatments have shown significant improvements in treating depression.  Most Australian clinics will have a psychologist within their team, or can help you find a suitable one.
Check out our CF and Psychology page for more information.
We also interviewed a psychologist about common CF questions and concerns. Read their comments Interview with a CF psychologist.
A variety of health professionals can help with depression;

GPs
Counselors
Psychologist
Psychiatrists
Mental Health Nurses
Below are resources that may assist you to identify depressive symptoms or concerns
Depression, Anixety & cystic fibrosis
Beyondblue depression checklist
Australian Government Mental Health
Mindspot depression checklist
Beyond Now Safety Plan
It is important to seek help if you feel you may have depressive or anxious symptoms. It is very common to experience fluctuations particularly when you are constantly dealing with managing and maintaining health. There are many pathways to assist you so it is matter of exploring the right option for you.
Resources for anxiety and depression
Below are organisations that specialise in assisting people who are experiencing mental health issues of all ranges.
Lifeline 24hr Counselling and Chat Crisis Support
Trained crisis support workers 24/7.
13 11 14
www.lifeline.org.au/crisischat
Suicide Call Back Service
Free nationwide professional telephone service available 24/7.
1300 659 467
www.suicidecallbackservice.org.au
Mensline Australia
24/7 Counselling service for men with relationship and family concerns.
1300 78 99 78
www.menslineaus.org.au
Beyond Blue Support Services
24/7 Counselling service.
www.beyondblue.org.au
1300 224 636
PANDA
PANDA supports women, men and families across Australia affected by anxiety and depression during pregnancy and the early years of parenthood.
9am-7:30pm Monday to Friday AEST.
1300 726 306
www.panda.org.au
MOODGYM
Cognitive Behaviour website teaches people useful ways to prevent and reduce symptoms of depression. It is designed for people with mild to moderate anxiety and depression teaching users strategies to manage feelings and thoughts.
Head to Health
Government website with information from those suffering from mental health issues, mental health organisations, evidence-based apps, online programs, forums, phone chat and email service.