Jamie lives in Sydney, is in his early 30s, has a background in journalism, and has just launched his own independent magazine, Pario Magazine. The magazine is an independently published magazine focusing on the creative industries through feature interview pieces www.pariomagazine.com.au
Jamie writes about his very personal journey towards discovering his fertility. A common concern for men who live with cystic fibrosis. Read more about Jamie's story below.
Growing up with cystic fibrosis you are bombarded with information about how the disease could impact your future. As a kid though you are so focused on the present that you often just brush all of this aside, which is exactly what I did. However, as you mature you will inevitably encounter many of these situations.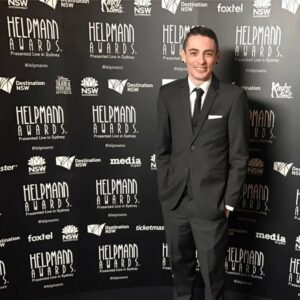 One such situation, which I often overlooked, was the impact CF could have on my ability to start a family. This is my story about how I mentally came to terms with the news that I would need to undergo IVF if I ever wanted to have my own children.
In my mid-20s my then partner and I began discussing the possibility of starting a family. Obviously, over the years many doctors had mentioned to me in passing that my fertility could be impacted due to CF. So I always knew eventually I would need to undergo the necessary testing. However, it wasn't until the conversations with my partner about starting a family began to become more serious that I decided I should ask my doctors for more information.
The team at RPA were incredibly helpful on this front. They took the time to sit down with both my partner and me to discuss all of the possible hurdles that may be placed in our way. After processing the information that was presented to us I decided that the next step would be to undergo fertility testing at Concord Hospital.
On the day of my appointment at Concord, I made the 90-minute drive to the hospital from my home. I travelled alone as I was confident everything would be totally fine. In hindsight, this was not the greatest choice. Upon arrival, I made my way to the fertility centre, checked in and waited to supply my sample.
Up until this point, the worrying thoughts were floating around deep in the back of my mind but I was still confident everything would be totally fine. After supplying the sample I went to get something to eat while I waited for the doctor to call me in to discuss results. It was here that the nerves really set in as I began to worry about what a poor result would mean for me moving forward. Thanks to the nerves I could barely even eat half of a sandwich.
Around 30-40 minutes later the doctor was ready to see me. As the doctor read the results I remember going almost numb as I realised that everything wasn't 'totally' fine. The doctor explained to me that the results didn't mean that it would be impossible for me to have my own children, just that IVF would be necessary in order to do so. She went on to explain how that process would go, but I honestly shut down internally and wasn't really there for the remainder of the conversation.
I left that appointment absolutely devastated and dejected. I began the drive home, in silence, and cried for much of it. Hence why I said earlier driving alone was a bad idea. When I informed my partner of the results she was incredibly supportive and understanding.
Although, in my mind, I was a failure as a man and partner because of this. That feeling would stick with me for quite some time, and took away all of my sex drive. Ultimately this led to the collapse of that relationship, which at the time was devastating for me.
During the months and years after that relationship ended, I slowly came to terms with my fertility results. I know now that this is just the next hurdle on my journey with CF. Hey, I've successfully cleared many other hurdles in the past so why should this be any different. Knowing this information about myself has actually helped me in my current relationship. Whilst my partner and I are not immediately anticipating having children we at least know what challenges lay before us when we get to that bridge.
This article was published in May 2021. If you would like to share your story, please contact us at admin@cfcc.org.au. We'd love to hear from you and so would our readers.