Lauren Woolcock, is 31 years old and living with cystic fibrosis. In 2018, she relocated overseas to work in the small island nation of Vanuatu. For CFStrong, she shares her experience and the challenges and opportunities in moving overseas.

I hope that the information contained in this article can assist anyone with CF who plans to travel overseas for a holiday or to move overseas for a longer period of time. My experience overseas was a wonderful and life-changing adventure. I fell in love with the country and its people. The experience even instigated a change of career so that I could continue to live and breathe the fresh air of Vanuatu. Hopefully this information is helpful, I have tried to include as much detail as possible.  All resources mentioned throughout are listed on the travelling page.
So… here we go.
Moving overseas is always an administratively challenging and logistically burdensome undertaking. For a person with Cystic Fibrosis, these challenges increase multi-fold. The lead up to the move was stressful and involved a lot of planning and research. I had travelled overseas a lot both personally and for work; however, a full re-location was far more complex.
The first step for me was to inform my clinic at the Alfred Hospital. As my work at the time was with the Department of Foreign Affairs and Trade, I knew at some point I would relocate overseas, and we had discussed associated health management a number of times in preparation. One of the key conversations that I had with my diverse health team was which countries were suitable for me to live in and which were not.
Taking into consideration a number of factors – including air quality, quality of health care (emergency and CF specific), access to medication and proximity to Australia – I was left with a list of countries in which I would be very happy to live and work. In the end, Vanuatu was the opportunity I was given, and I readily accepted.
In 2018, after a lot of planning and preparation I moved to Port Vila, Vanuatu to work for the Australian Government.
Vanuatu is a small nation comprising 83 islands with a population of approximately 240,000. I moved to the capital city of Port Vila and travelled to some of the outer and more remote islands.
Once Vanuatu became the destination, we discussed some of the key issues that may arise and came up with solutions that suited everyone.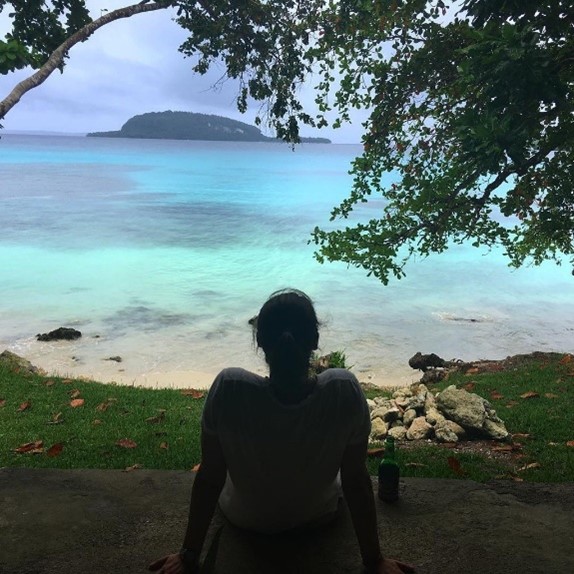 The Vanuatu health care system
As CF is largely a Caucasian disease, the Melanesian population of Vanuatu does not have a health care system set-up to assist a CF person. There are no clinics available and very little knowledge of the genetic disease. The emergency services are developing but currently inadequate for complex health needs. Overall, Vanuatu's health care system is developing but not to Australia's standard.
I learned there are GPs (French and English speaking) who can assist with basic medical needs as well as a central hospital in the capital. My preference was to avoid the central hospital for CF related needs and instead ensured I had a GP who could contact my Australian-based clinic if required.
I managed to find a great GP who agreed to work hand-in-glove with my CF team at the Alfred should my health deteriorate, or I require specific tests. The GP also had arrangements in place should I need medication that was not on hand in Vanuatu. I found this GP when I arrived in country, although it's probably better to try and set this up in advance of travel. Luckily, neither of these arrangements were required during my time there – but they were vital to have in place just in case.
I found most of the information about Vanuatu's health care system online and through knowledgeable travel doctors. General information provided by the DFAT country brief was useful as well as conversations with people who had lived and/or worked in Vanuatu.
Access to medication while overseas

This was the key one for me. I was to be posted to Vanuatu for 2-3 years and was aware that Vanuatu was not likely to have my main medications. I arranged with my clinic to be provided with a 6-month supply of medications (including enzymes, puffers and antibiotics) and I arranged to return to Melbourne every 6 months to re-stock.
Bringing medications into a foreign country can have its own challenges. I would suggest contacting the relevant country embassy to request their advice on what medications can and can't be brought across their international borders. Most CF medications are legal in most parts of the world, but I think it's always work checking.
Appointments and check-ups
My clinic and I came up with a plan to have a face-to-face appointment every 6 months, with telemedicine appointments in between. The proximity of Vanuatu to Australia (approx. four hours) was a key consideration in choosing my overseas posting location. I was also lucky that my work brought me back to Australia quite often and was flexible meeting my medical needs.
Travel insurance
This is a tricky one. I have travelled a lot and have never sought travel insurance specific to my CF. In saying that, I have been lucky and never had any health issues overseas. I know there are companies that do provide CF specific travel insurance. Whether to get CF coverage when travelling is a very personal decision. My advice would be to research as much as you can, know your own body and its limitations and make an educated decision based on all risk factors (time away, planned activities, likelihood of CF related illness). For example, I once travelled to Indonesia for a few days and found the air quality was so poor that I was glad I was not there for an extended stay. While I would probably never go back for that reason, if I decided to travel to a similar place in the future, I may look at getting CF specific travel insurance.
Packing challenges
Packing for an overseas move is not a simple process for anyone and takes an awful lot of planning. When moving your larger items over it can take up to 2 months to arrive, best to ensure none of your CF related things are in this set of items. Additionally, I found that a lot of my essential oils, which are a vital part of my health regime, could not be transported across due to customs regulations. I managed to find suppliers in Vanuatu which met my needs; however, this may not always be possible. Make sure you have all the things you need in your luggage just in case the freight does not arrive, or things get damaged.
"Living and working overseas was one of the best experiences of my life

Lauren
Other challenges
Other things worth considering if you plan to travel overseas is the climate, access to food and exercise. This is probably something to discuss with your team prior to departure. I found the climate of Vanuatu was beneficial to my health overall – being tropical, humid and full of beaches. In saying that, as it was so hot and humid I did not exercise as I usually would but did spend more of my time outdoors. Vanuatu does not really have gyms but does have a number of team sports available and as you can imagine there is unlimited access to nature for walks, swimming and general activity. Running is usually my main form of airway clearance and I found it was too hot during the day to run and too dangerous at night to run alone. I established a new airway clearance regime that included more deep breathing exercises and introduced some physio aids to allow for adequate clearance.
Access to healthy foods was not a problem in Vanuatu, however, I was aware of salt loss being in such a humid environment. Some imported items were far more expensive (broccoli was $20 a kilo) however there was a surplus of pineapple and other tropical fruits. This kind of research is really important no matter where you plan to travel. Mood, energy, immune system and general wellbeing can all be affected by inadequate diet.
During my time in Vanuatu I travelled to some very remote areas. It was a wonderful experience but might not be for everyone. In considering whether or not it was safe for me to travel to areas with no medical assistance and sporadic access to running water, I considered the length of time in each place, my general health status and whether the adventure or work requirement was worth the risk. In such instances a quick risk assessment might be a good idea considering the worst-case scenarios and any mitigation strategies that can be implemented. For example, if I was travelling to a remote area, I would always take an emergency radio.
General travel tips 
Even if you are travelling overseas for a short holiday, there are some things that can help you have a stress-free time. Simple things like knowing the number for an ambulance, or the number of the Australian Embassy can save you from the stress of googling the answer in a time of need. If there is no Australian Embassy in the country you are travelling, the Canadian Embassy will be able to help you. Always pack half your medication in your hand luggage and half in your checked-in luggage, and of course always take more than you need. Research before you go is the only thing that will prepare you adequately for any surprises.
Don't forget about other health risks that may fall outside of CF. For example, malaria and dengue are common issues in tropical regions and make sure you see a travel doctor to get the required vaccinations prior to departure.
The experience
Living and working overseas was one of the best experiences of my life. In fact, I fell in love with the country and its people and have since quit my job with DFAT in order to continue to live and work in Vanuatu. I now own my own business that operates across the Pacific.
Prior to moving overseas my health was stable and I had not had an admission for 4 years. My overall health status was one of the most important factors when considering whether or not to move overseas. While the adventure is always alluring, there is nothing more important than health. I needed to make sure I was in good conditions before I left and worked hard in the months leading up to departure to ensure I was as fit and healthy as possible.
I did not need to be admitted while overseas (nor would Vanuatu be able to admit me). Despite this, I had put in place a 'worst-case-scenario' plan that included knowing flights throughout the week that could get me back to Australia quickly if anything went wrong. CF is unpredictable after all.
For me, the most important part of the decision-making process when considering any overseas trip is to know your own body and trust your instincts. You know what your body is capable of, what types of climates you find challenging and what sorts of things you cannot function without. Flexibility and adaptability will be your friends during any time overseas as will a positive attitude. Travelling should be fun and full of adventure, and research and planning will help ensure this is the case.
This story was published in February 2021. If you would like to share your story or travelling in Australia or overseas, please contact us at [email protected]. We'd love to hear from you and so would our readers.