Amanda lives in Brisbane, Queensland where she plays Aussie rules football. For CFStrong, the

28-year-old discusses her path to football, the moment when it was taken away from her and how she found her way back to the field. 
"Bubble wrap is not a term that my parents, I don't think, have ever used. They'd say, 'You're just like everybody else, Amanda, off you go'," Amanda told CFStrong.  
The 28-year-old explains that when she was growing up, her family was connected with another family in Queensland whose children also had CF. They encouraged her parents to let her be active.  
"So, I was a gymnast first up for about 12 years of my life," Amanda said.  
"I ended up getting a serious injury to my shoulder, unfortunately, dismounting off a bar. Just came off incorrectly and dislocated my shoulder." 
"I think it was sort of the light at the end of the tunnel for me. Yes, at the start, I was sort of like, that's it. I can't come back from this. But then I realised it wasn't about coming back to gymnastics, it was about this has given me an opportunity to move on and go and explore other sports. And that's when my passion for other sports started to grow." 
Amanda played soccer, touch football, and rugby league at school. It was an open day at her school where she was introduced to Aussie Rules.  
"One of my really good mates at the time came up to me and he was like, 'I just signed on for AFL and I got this really cool Brisbane Lions wallet'. And he showed me, and I was like, 'Ah!' 
"And from there, the passion for AFL sort of grew. It was a sport that I didn't really know much about coming out of a rugby league family. But then I found that it was a very inclusive sport, hugely inclusive, and it was a sport that was going to excel forward, especially for females. So, I stuck with it." 
Amanda played Aussie rules in a mixed team until she turned 14.  
"There wasn't much of a pathway for girls after that, it was very rocky. But I am proud to say that I was, I guess, one of the leaders in getting that pathway opened up to where it is now. And I sort of played here and there while that pathway was very rocky and then got to women's. I was 15 when I started playing women's football. So being a 15-year-old running around a field with, with women can be very scary. But I was lucky enough that I'm sort of shorter, can get under packs a lot faster. And I found that I had quite good tackling skills coming from rugby league."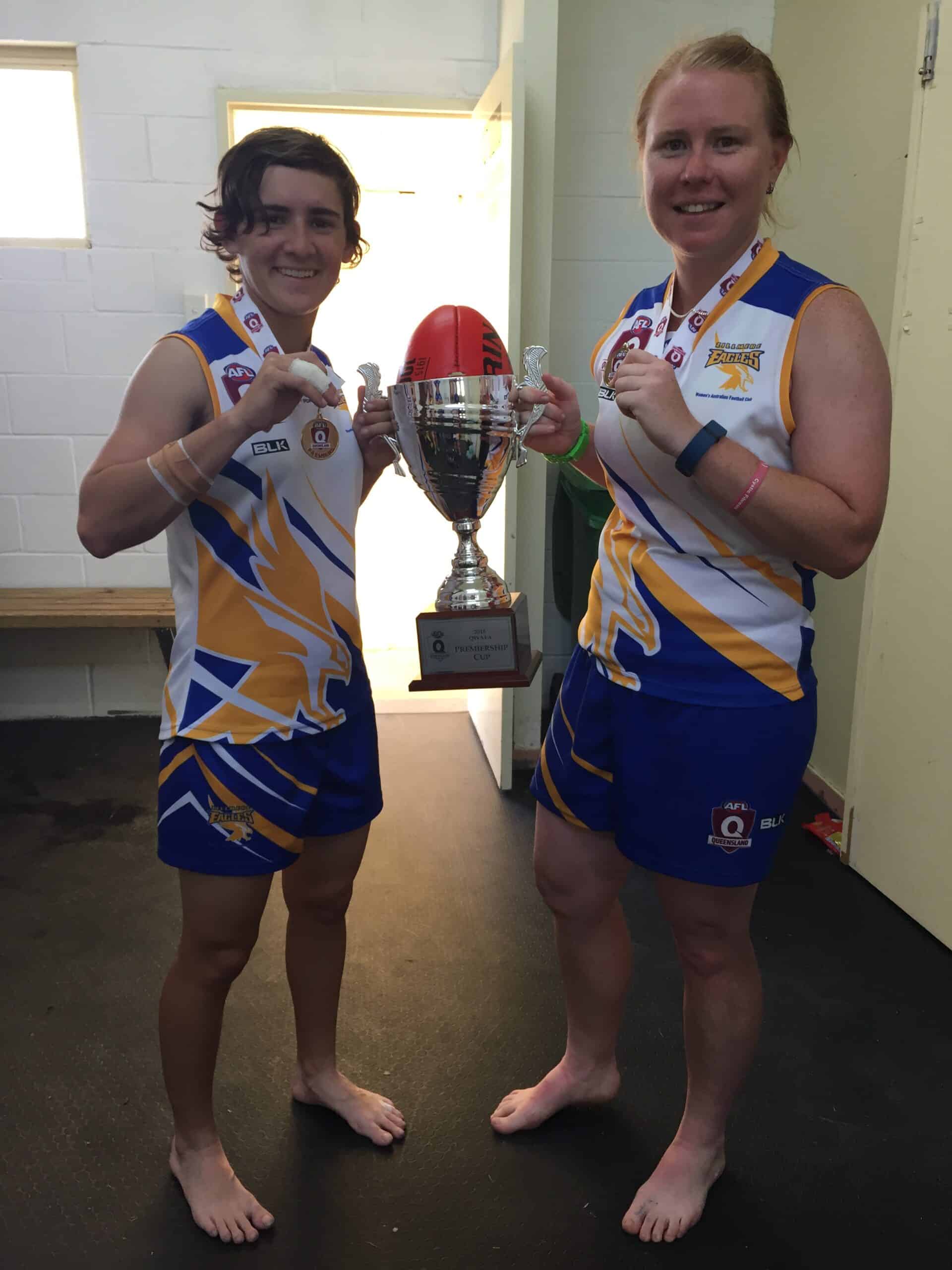 In 2018, Amanda says she was in a "really bad stage in my health". Her clinic team wanted her to get a portacath. At first, she was against it.  
"I was quite against it was because they told me that I wouldn't be able to play AFL anymore. So, for me, that was my life's over, you know, my best friends are there. That's where all my really close friends are. It's over for me." 
Amanda says a call with her Dad changed her mind.  
"Now, my dad is a big teddy bear. But he always knows what to say. So, I called him, and I just said Dad I don't know about this. And he said to me, Amanda, professional AFL players get life changing injuries every year. There's always an injury that will change your life.  
"But you're either going to make the most of it or you're going to let it get to you. And he said kiddo, nothing gets to you. He said you're going to be an amazing coach. Or you're going to be an amazing mentor to the next girl coming through with CF and doing this only shows your strength.  
"I got off the phone to him and I walked back in, and I said we're doing this, let's go. And they took me straight down and they put my portacath in. 
"Don't get me wrong, I was miserable after that. I think I sat in hospital, and I wouldn't do anything for the first three days. I was like no, just leave me alone. I was in quite a dark place. My one thing I loved and the one thing I had a passion for and that I have so many friends at, and I shared with a lot of my friends, that one thing was taken away from me. And that had never happened in my life. CF hadn't taken something away from me and that's what had happened."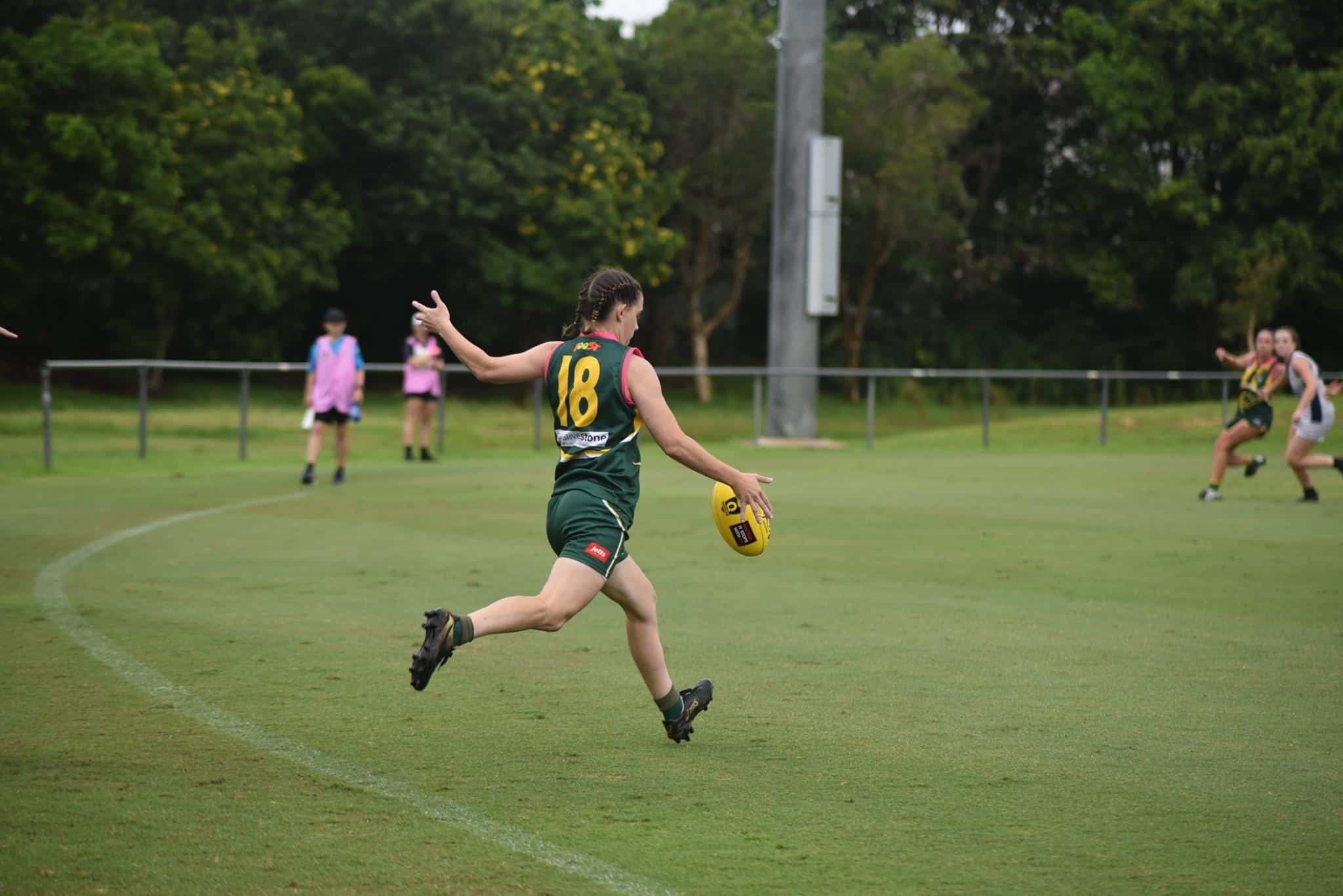 Amanda moved from playing to coaching, taking up a role with the Zillmere Football Club. It was while at Zillmere that she had the chance to play again.   
"The Zillmere Eagles actually had an opportunity to play on Metricon Stadium where the Gold Coast Suns play. And they needed extra players and [my friend] Ash turned around to me, and she said to me, what's the chance we could talk your doctors into it?  
"It had been seven months since I've had my port put in. I hadn't done any contact work, because I got told I wasn't allowed to. Ash said what if we get a pad or something to go over the top of it, you know? And I said, we can only try. At this stage, you could see my health was starting to really deteriorate. I wasn't playing sport; my lung function was going down. It was very obvious.  
"So, I walked into my clinic appointment, I just sat down, and I just said, I'm going to play. I said I've got an opportunity to play a curtain raiser game to an AFL game, I'm going to play. And they looked at me and they looked at my lung function. And they said, well, we can track over the last nine years that your lung function's always been very high around this time of year because it's footy season. And we can see you're actually starting to go down. So, we think it's a good idea.  
"But–there's always a but. You're going to have to do something about your port. 
"So here I am absolutely bouncing out of clinic like I was on a high. I don't think I've ever had that kind of high ever. And I've rung Ash, I'm like I'm allowed to play, it's happening. She's pumped, I'm pumped. And then I'm like have to get a guard for my shoulder. Well, we'll be able to do that, we'll be able to find something. She was super positive and upbeat about it.  
"So, we got a shoulder guard made up and then we got like a doughnut built into the shoulder guard that goes over the top of my chest port. It was unreal. It was so great. Like I ended up playing the rest of the season out in 2018."  
Amanda stopped wearing the guard in 2019 after finding that contact on the port wasn't causing any issues.  
"We were cautious about it. We weren't just going in making unruly decisions about me playing a contact sport with this new device without actually asking for advice."  
After getting back to footy in 2019, Amanda continued playing before moving to Wilston Grange in 2021.  
"So, I play the level just under the AFLW so you have the AFLW and then I play in the QAFLW. So QAFLW and QAFLW development is sort of that next tier, moving into the AFLW.  
"And I'm very proud that I still can play at that sort of top level. I do prefer to play in the development, a little bit less training and you can have a bit of fun, but I appreciate that I am still there. I'm still up there. Still training with those clubs. I'm still definitely kicking it around with the best girls in the league. And I love that.  
"I love that I'm still there. I'm 28, I have cystic fibrosis, but I'm absolutely kicking goals because of it. And I'm proud of that. I'm proud to tell anybody about it." 
In this episode of the CFStrong podcast we hear from Amanda about her experience growing up with CF, the importance of her support network and—literally—kicking goals. Amanda discusses playing contact sport, how she dealt with her health taking her away from the sport she loved and her decision to get back on the football field. This is the first episode of our two-episode chat with Amanda.
This story was published in May 2022. If you would like to share your story, please contact us at admin@cfcc.org.au. We'd love to hear from you and so would our readers.