Shaun Nicholls shares his traveling advice
Shaun is a qualified teacher, writer, avid traveller and genuinely charismatic guy. He lives in Victoria.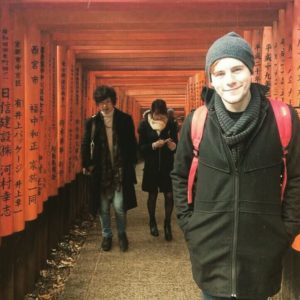 So you're planning a big holiday. Amazing! Travelling with a chronic illness can be a minefield and making sure you have the correct information is important so you can be flying high and looking after your health at the same time.
Back in the archaic days of cystic fibrosis, when Ansett Australia was still an airline and percussion physio (being pelted on the back with ferocious hands while you were leaning over the edge of the bed with a blood rush to the head) was considered a science, travelling was completely off the cards.
Thankfully, times have changed, processes have improved, and people living with cystic fibrosis can still travel, so long as they take extra precautions and plan ahead.
I wouldn't want anybody travelling with only a week's notice anyway, so you may as well plan early. Make sure your health is looked after, so you can have plenty of brunches with friends where you can lord it over them about your tropical oasis plans!
If you are deciding on getting on a plane, it's very important you let your CF team know about it. When I know I'm going to embark on an overseas adventure (financial stuff aside), I usually give myself around three months to get 'health fit'. That means I can comfortably withstand being on a plane with recycled air, germy children and jetlag, and this starts with a conversation with my CF team. I want to make sure I am ready and prepared.
You have clinic appointments, right? So aside from your spirometry tests and awkward conversations about deep fried foods with your dietician, let them know you're planning on heading overseas in a few months.
My CF team have always been incredibly excited for me when I head off on an adventure. They make sure that where I'm going has a good healthcare system so I'm safe, in case things go pear-shaped.
Unfortunately, those of us with CF don't qualify easily for health insurance, and getting it can be quite tricky, so depending on where you're going, you might have to research what the healthcare and hospitals look like.
For example, because I was going to the UK for a month, I knew the NHS (National Health Service) and Medicare had a reciprocal arrangement. Because I was having too much fun in Scotland, I needed a little tune up. It was definitely something out of my control, as I made sure I was as health fit as I possibly could be when I departed.
I was seen to by the lovely doctors and nurses at Borders General Hospital, and while being in hospital for a week wasn't ideal and ate into my trip, I was taken care of, and I felt like I was able to enjoy the remainder of my holiday once I was feeling better. Besides, the nurses really dug my accent, so I got free puddings.
I've put together a list of what I think you're going to need, and what may be added to your list, depending on your health and situation. Each person with CF is unique and irreplaceable, and so is their health, so my advice is very general, and your situation might look a little different when you outline your path to sipping a kiwi mojito by the beach.
1. Talk to your doctor about your travel plans and intentions.
Remember, you are entitled to a life, and travel nourishes the soul. You don't have to be timid, just be firm and direct.
2. Outline what medications you will need to bring with you.
This includes your physiotherapy equipment. Your CF team will compose a letter for you to take in your luggage, in case Immigration assumes you're trying to pull off a Schapelle Corby 2.0.
3. Be mindful of what medications you need and what you might not need.
For example, Creon is vital, but are your vitamin D tablets? Be aware of where you are going and stick with your essentials.
4. Your CF team might suggest a tune up in hospital to make sure you are 'travel fit'.
This is something I needed to do, and while the thought of going to hospital again was mortifying to me, I understood my doctors' intentions. It was literally to recharge my batteries, have some IV antibiotics to top me up, and have some targeted physiotherapy so I was as fit as possible to withstand any barriers that might come up. I saw the hospital as arming me with as many defences as I could carry, to make sure I'd have the best holiday possible.
5. You may need to carry oxygen with you on the plane.
This is something that can be arranged by your hospital team, and a letter from them will authorise you to take that on board with you. You may need to contact your airline prior to departing and enquire how this will be managed. The more notice you give the airline the better.
6. LOOK AFTER YOURSELF!
If you have a big amazing holiday to look forward to, you cannot afford for your health regime to get sloppy. You could potentially wind up spending your whole trip sick and miserable, and it won't be worth it. So, make sure you take your medications, and keep up with your airway clearance and physiotherapy, as well as doing regular exercise. You have plenty of time to sit and read the new Jodi Picoult book doing nothing when you're on your holiday.
I very much hope whoever is reading this has some amazing travel experiences. Nothing can stop you from going to the destinations of your dreams. You just have to think and plan a little differently, so you get there safely and joyfully!
Happy travels,
Shaun Nicholls
This story was published in February 2021.
If you would like to share your story, please contact us at [email protected]. We'd love to hear from you and so would our readers.