April is a qualified teacher and business administrator. She loves reading, learning and travelling. She's a confessed dog lover and coffee appreciator, who currently lives in Sydney.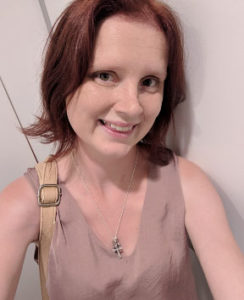 I was raised to be very independent from a young age. I was taking myself all the way down to Sydney from the Central Coast for my appointments from the age of 14. Taking on more independence and responsibilities such as going to the GP by yourself, organising your own medications and taking yourself to the occasional appointment was a great way to help me mentally prepare.
This helped me because I didn't really get a transition program. I was taken up to John Hunter for an admission and that was my 'transition'. So being independent earlier helped me adjust.
The hardest part for me was actually adapting to the busyness of being an adult and having to organise my 'uni life' and 'friendship life'. I found it easier asking a friend to come along to a few appointments so they could help me adapt and take the time to look after myself (as I got quite lazy with it). It also helped make it easier when you just said, 'I have a clinic appointment.'
I tried to organise and plan work and uni around my appointments, rather than the other way round.
One thing I had to be prepared for was the shift in 'care'. It went from having procedures done under sedation and with Emla cream, to just having to take it all with no cushion. That was a big adjustment for me, as I've always HATED cannulas.
It was also an adjustment (in my situation) that I was suddenly seeing specialists every month, instead of every six months. It got very draining and I had to adapt quickly.
If you would like to share your story, please contact us at admin@cfcc.org.au. We'd love to hear from you and so would our readers.