Chris from Vic, shares his thoughts on dealing with negative feelings
Chris lives in Victoria with his wife and young family. He shares his thoughts on feeling guilty when he compared his situations to others living with CF. 
Chris Beard often reflects on his good fortune. As a 34-year-old who lives with cystic fibrosis, his life improved significantly when he was prescribed Trikafta™, the new medication that is making a huge difference to so many people around the world living with CF.
However, Chris' delight with what Trikafta™ has given him is tempered by a feeling of guil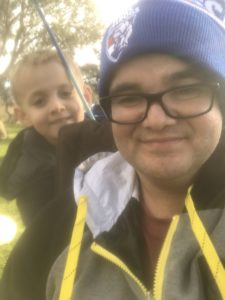 t when he considers the many Australians with CF who cannot access the medication as it not yet on the Pharmaceutical Benefits Scheme (PBS).
He received Trikafta™ on 'compassionate access' from Vertex, the international pharmaceutical company that developed and manufactures it. All pharmaceutical companies have compassionate access schemes that provide early and inexpensive access to new medications for special cases. For people with CF, a lung capacity of less than 40 percent may qualify them for compassionate access – if their clinician advocates on their behalf.
Trikafta™ was approved by the Food and Drug Administration in the United States in October 2019 but has yet to gain approval from the Therapeutic Goods Administration (TGA) here.
Last year, Chris was on the list for a double lung transplant. His lung function had declined to 19 percent. As he lay in his hospital bed for eight or nine weeks at Monash Medical Centre, he reflected on his situation and that of two other CF patients.
'One of them appeared to be sicker than me and he was fortunate to get a lung transplant. I felt happy for him and yet wondered when it would be my turn. I also thought of people living with CF in my region who were on Orkambi™ or Kalydeco™ medications, who were healthy and able to travel overseas. I often wondered why it wasn't happening for me.'
The feelings of envy and frustration would frequently turn to guilt as he contemplated his situation.
'This means I am able to lead a relatively normal life,' he said.
Before he was on Trikafta™, Chris would spend up to three hours every day clearing his lungs. He would produce between one and two cups of sputum every day. With the new medication, there is now only a teaspoonful a day. His health has improved rapidly and his lung function has increased to 52 percent.
Chris has two older brothers, Josh and Aaron, who don't have CF, and a younger sister Rebekah who does have CF. Rebecca works in the pathology laboratory in the Box Hill hospital. She too qualified for Trikafta™ on compassionate access grounds and is reaping the considerable benefits.
Chris, his wife Shari and six-year-old son Isaac, live in Wodonga on the Victorian/New South Wales border. Born in Albury, across the Murray River in NSW, Chris has lived in Wodonga all his life. His CF diagnosis came soon after birth – an older sister, Rowena died at the age of four from CF-related illness and this alerted medical staff when Chris was born.
'I was in and out of hospital as a kid, then had a period of sustained good health as a teenager and into my early twenties. My health deteriorated in my late twenties and early thirties,' he said.
For Chris, and others living in regional Victoria, going into hospital means a long drive to Melbourne. Fortunately, Shari has done most of the driving, reducing Chris's stress levels.
Since the age of eighteen, Chris has worked in hospitality and has completed a degree in hospitality management. As his health declined, he was forced to step back from management roles and work casually. He returned to studies to undertake an accountancy course and, once qualified, plans to pursue a career in that field. His improved health and the easing of COVID-19 restrictions in regional Victoria have increased his optimism for re-starting his career.
He believes that placing Trikafta on the PBS makes sound economic logic. Before he was taking it, Chris was in hospital every two months. Now, it is around every six-to-twelve months and he said the gap may increase further.
'When I'm back at work, I'll be paying tax and no longer on the disability support pension.'
There seems little doubt that the physical and mental health for people with CF and their families will be greatly enhanced with Trikafta being placed on the PBS.
If you would like to share your story, please contact us at [email protected]. We'd love to hear from you and so would our readers.