Olivia Wood from NSW shares her thoughts on and experience of transitioning to adult care
My transition was very well organised. It was a slow transition, so I had some clinics at the Randwick Children's Hospital and some at the Westmead. I got to meet the new team later in the year and select the doctor who was right for me. They gave me lots of information on who and how to contact them, and I had a tour of the respiratory ward.
It's hard because you're 18, so you're really still a teenager, then you become an adult. Everything changes.
Leaving my team at the Randwick Children's Hospital was really hard because I've known them since I was born. I'm friends with some of them on social media and I joined the Advisory Council for the Randwick Children's Hospital (ages 16-23) to keep in touch.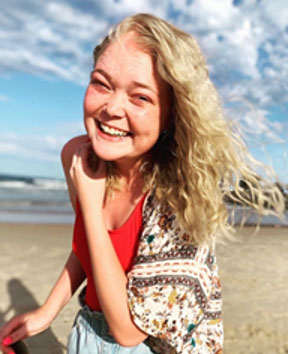 I think the positives of being in the adult system are that I can text the team and they will call me with alterations to my medications, which means I don't have to go in for all health-related issues. I feel like you make more decisions over your own health because you know what works for you and what doesn't. You can still keep in touch with the team at the children's hospitals, so you know they are still there, but over time, you realise the staff in your adult clinic are there for you and they really do want to help.
Some of the negatives of being in the adult system include that the environment in adult hospitals is different. The children's hospitals have bright colours and feel uplifting, whereas the adult ones are grey, beige and green. The furniture is all bolted to the walls and floors because people steal things. That's not great.
I don't understand why they don't keep the brightness in the adult wards. It would make you feel happier about being there and could reduce admission times, as it impacts your mental health. You wouldn't feel so stuck.
If you would like to share your story, please contact us at admin@cfcc.org.au. We'd love to hear from you and so would our readers.